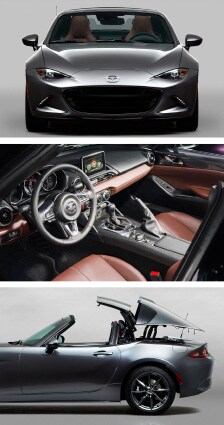 2017 Mazda MX-5 Miata RF
Hall Mazda has some great news! We are now taking pre-orders for the 2017 Mazda MX-5 Miata Retractable Fastback (RF). The model's unique design featuring a back window glass that retracts when the top is down enables the driver to fully enjoy the pleasing exhaust note coming from the rear, helping to deliver the true pleasure of the open-top driving experience. The launch edition will come in machine gray metallic paint with a hand painted black roof panel and the Auburn Nappa leather interior.

DOES DRIVING MATTER?
Does a long, winding road or an empty freeway on
Sunday morning matter if the car you're in doesn't take
advantage of the moment?
Does safety, technology, efficiency or even beauty matter,
if a car doesn't feel right in your hands?
If you build Mazdas, driving is what matters most.
That's why everything we do makes driving better.
Like safety technology that inspires confidence.
Engine technology that makes our cars and SUVs more
fuel-efficient. Yet still responsive.
And designs that capture motion, even when the car isn't moving.
What's better than a great driving car?
A car company that won't build anything less.
MAZDA. DRIVING MATTER*
THE CAR THAT MADE HISTORY NOW DEFINES THE FUTURE.
Born from a passion for driving, the spirit of the Mazda MX-5 Miata is built into the heart and soul of every Mazda. It's this unrelenting belief that Driving Matters that makes a Mazda a Mazda. It's why the original MX-5 became a world-renowned icon and what inspired an entirely new concept: the MX-5 Retractable Fastback. With every new vehicle we produce, our conviction that Driving Matters lives on.
THE ICONIC MAZDA MX-5 MIATA
It's the car that defined the modern roadster. The car that reignited our passion for the classic British-style roadsters of the 1960s. Lightweight. Nimble. Intuitive. Yet extraordinarily fun to drive. The iconic MX-5. Even now, after more than a million produced, it remains the best-selling roadster of all time.
THE FIRST-EVER MAZDA MX-5 MIATA RF
How do you top a classic? You create something entirely new. The MX-5 Retractable Fastback. Not just a convertible. Not just a hardtop. But both. It's everything you love about the classic MX-5, plus a remarkably innovative fastback design that's unlike anything else from Mazda. You get all the advantages of a hardtop with the spontaneous exhilaration of a convertible.
MAJOR SPECIFICATIONS
MAZDA MX-5 MIATA RF

In one simple, intuitive and ergonomic step, the convertible top can be unlocked and dropped for pure driving enjoyment. Without having to leave the driver's seat, the release is quick, smooth and effortless-and only requires one hand thanks to its integrated "assist spring" mechanism.
Our first-ever ingenious power retractable roof operates in a mere 13 seconds. Press a button and the fastback side pillars raise, the two overhead roof panels retract, and the rear window lowers itself behind the seats. The two fastback pillars return into place to retain the sleek fastback style.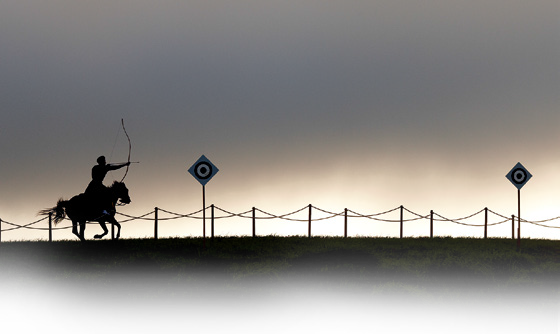 A LEGACY BUILT ON A SINGLE PREMISE: CAR AND DRIVER AS ONE.
To achieve "oneness" between a vehicle and its driver, Mazda engineers were inspired by the Japanese concept of Jinba Ittai, or "horse and rider as one." When a vehicle becomes an extension of the driver, only then is perfect harmony possible. That's why every Mazda MX-5, from throttle response and driver-centric cockpits to agile steering, delivers this feeling of Jinba Ittai. It's a time-honored belief in modern application. Achieved because Driving Matters.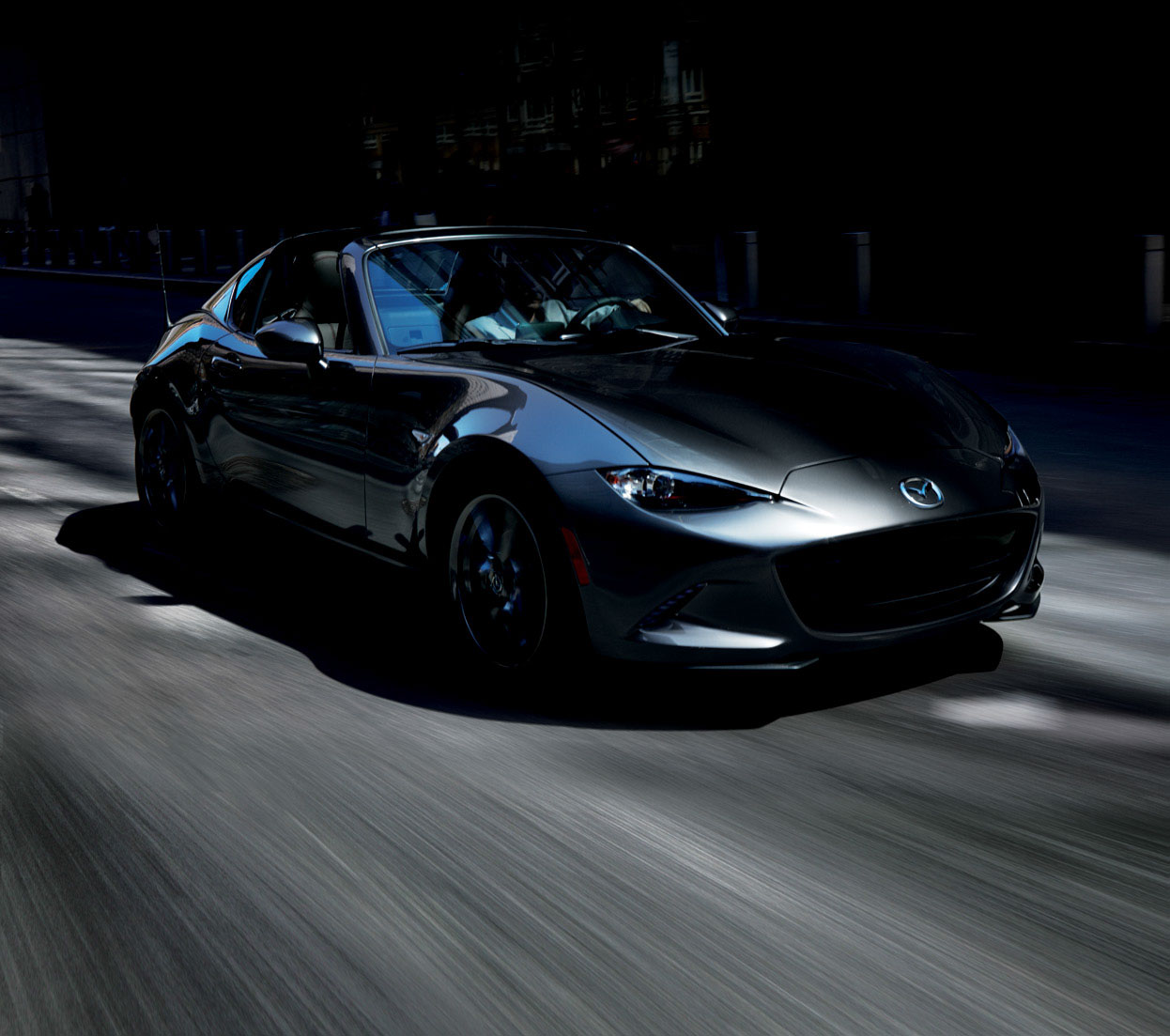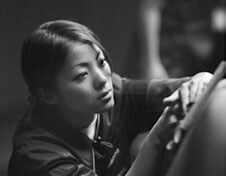 OUR INSPIRATION.
KODO: "SOUL OF MOTION" DESIGN.
To infuse the dynamic movements of the KODO: "Soul of Motion" design language into every curve, corner and detail of the MX-5, artists and craftsmen created an unrestricted form. Recognized as the Speed Form, this sculptural exploration is nothing less than pure energy. Through the prioritization of an object's elements, the Japanese aesthetic can be realized. Designers use this harmonious, creative process to shape and develop the look, allowing the visionary to change the smallest creases and curves to deliver optimal proportions. It's no less than a passionate pursuit of excellence.
WHEN A CAR IS AN EXTENSION OF YOUR BODY, DRIVING IS AN EXTENSION OF YOUR SOUL.
The concept of Jinba Ittai, or "horse and rider as one," is the inspiration for the MX-5. That a horse and its rider communicate by being instinctively in tune with each other-achieving effortless communication. To complete that same communication behind the wheel of an MX-5, Mazda engineers used multiple electromyograms and G sensors to analyze a driver's interaction with the vehicle. From determining the exact location of the shift lever, to which muscles and precisely how much effort they need to shift, every aspect of the drive is engineered to not just connect you with your MX-5, but make you one with it.
ALWAYS PRECISELY IN BALANCE.
Even after 27 years, the engineers at Mazda remain passionate about the MX-5's near-perfect 50/50 front-to-rear weight distribution. The quality-obsessed engineers who imagined and built the latest-generation MX-5 Miata and the MX-5 RF held fast to one simple philosophy: Preserve and innovate the front-midship engine and rear-wheel drive layout. Sustaining the deep-rooted belief that the MX-5 is not perfectly balanced until you, the driver, are literally sitting in the driver's seat.

The respected and fundamental driving dynamics of the Mazda MX-5 are fueled by the need to build a sports car that's lightweight, strong and a total blast to drive. All simply because Driving Matters. It's in our DNA to build cars that are responsive and faithful, which is why it's no wonder the MX-5 inspired a holistic approach to building our vehicles, called SKYACTIV® TECHNOLOGY. SKYACTIV TECHNOLOGY makes for a lighter, stiffer and safer vehicle. And it is at the heart of the MX-5. Or is it the other way around? It's the foundation for a strong, lightweight platform with a powerful-yet-efficient drivetrain that maximizes driving enjoyment with every drop of fuel. While you may not think about these aspects when you're tearing it up on a canyon curve, it matters to us that you get the most out of your sports car.
"THE FASTBACK YOU'VE BEEN WAITING FOR, ONLY BETTER."
-CarandDriver.com, March 2016
AFTER MORE THAN A MILLION PRODUCED, THERE'S STILL ONLY ONE.
MAZDA MX-5 ACCESSORIES.
IT'S YOUR MAZDA-MAKE IT YOUR OWN.